Recharging
When your card balance gets low,
you can recharge it and keep using the same card.
Recharging at subway ticket machines
and IC Card Charging machines
1
2
3
Select the amount to load
4
Insert cash in the selected amount
5
Recharge Locations
Subway
When entering, recharge before passing the ticket gate machines
Ticket machines
IC Card Charging machines
Commuter Pass Sales Offices
When leaving, if your balance is
insufficient to pay fare
IC Card Charging machines
Fare adjustment machines
Bus - Streetcar
Recharging before boarding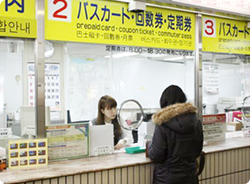 Bus offices
Bus terminals
Recharging on board due to insufficient card balance
Fare boxes
Other
Certain shops
Seicomart
Sapporo Drug Store
Recharge Limit
Subway Stations,
Bus Offices etc.
Up to ¥20,000
in increments of ¥1,000
(may differ based on
equipment support)
¥1,000 at a time
when balance is less than ¥10,000
Machines only take ¥1,000 notes.

CAUTION
Using another SAPICA or IC card to recharge is not possible.
When recharging on board buses and streetcars, please ask transport staff for assistance when the vehicle is stopped.